PUBLISHED : 1 Apr 2020 - 09:44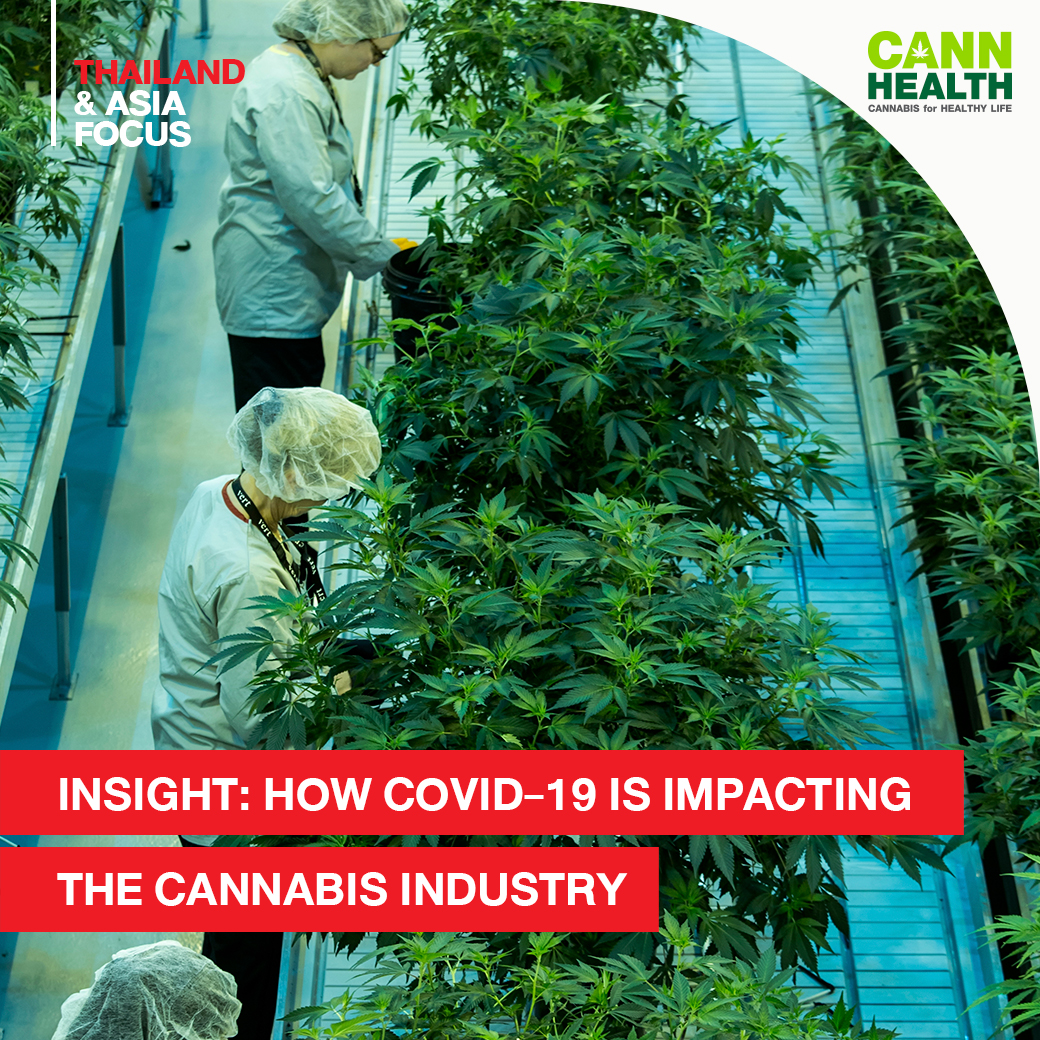 As of 27 March, we have seen over 530,000 confirmed cases of coronavirus (COVID-19) across 199 countries. As the outbreak develops, Prohibition Partners is monitoring the situation and reporting on the probable impacts for the nascent cannabis industry.
Stephen Murphy – Managing Director

Last week we reviewed what a global recession would mean for the industry, how the CBD industry could fare during the pandemic and how public attitudes might shift in response to the outbreak. This week we review the extent to which different consumer groups might change their behaviours, as well as the potential broader implications for the industry.
COVID-19 Impact on Consumption Patterns
Since COVID-19 took centre stage in international affairs over the last month, consumption patterns in all industries have been rapidly shifting. However, the majority of consumers in Europe and North America intend on either maintaining or increasing their purchases of cannabis products in the coming months according to our recent consumer research, conducted last week.

A total of 2,988 adult cannabis consumers aged between 16 and 65 in the US, Canada and the UK were asked how they expected COVID-19 to affect their consumption rates over the next three months (March to June).

Medical cannabis users are the most likely group to maintain current levels of consumption. Non-medical users, on the other hand, report more of an intent to increase or decrease consumption. This could reflect the fact that dosage recommendations remain relatively stable for medical users, while lifestyle changes will have a drastic effect on non-medical consumption.
Source: Prohibition Partners.
Of course, the translation of consumer intent to market reality may not be straightforward and it will be a challenge to maintain supply lines over the next few months. Medical resources, including healthcare professionals' time and attention, are in short supply and are being directed towards managing the disease outbreak. Regions that are dependent on imports will face challenges in supply in the coming months as border restrictions tighten and staff involved in logistics become unavailable. Regulators must now adapt to ensure supply lines are kept open so that distributors can meet demand. This is already happening in regions such as Pennsylvania, where patients can obtain online prescriptions that remain valid for 90 days rather than 30 and the UK, where LYPHE Group, a UK-based medical cannabis group, has agreed emergency measures with the Home Office to import sublingual cannabis medications for the first time.
In line with our findings that people are more likely to maintain or increase consumption in the coming months, there have been numerous reports from North America and Europe that consumers have been bulk-buying cannabis from dispensaries, leading to record-breaking sales. Governments in regions like Quebec, Illinois and the Netherlands will keep cannabis stores open despite regional lockdown measures. This is intended to maintain supply of medications to patients but also, in the case of the Netherlands at least, to avoid a surge in untaxed black-market activity. Where businesses have remained functional, many must adopt innovative measures such as offering takeaway and delivery services as well as accommodating telemedicine applications to minimise in-person interactions.
An Industry in Flux
The fallout from the spread of COVID-19 has set records for the steepest drop in stock prices in history. To illustrate the point, we have mapped the performance of two index funds against the rise in COVID-19 cases. Index funds are mutual funds which invest in a particular selection of companies and can be taken as a proxy for the stock performance of different verticals. The two indexes used here are The Vanguard Total Stock Market ETF (NYSEARCA:VTI) which holds investments designed to represent the entire US stock market and the Alternative Harvest ETF (NYSEARCA:MJ) which is the largest index fund focused on cannabis companies.
Source: Prohibition Partners/Eoddata.com/Johns Hopkins University Center for Systems Science and Engineering
Cannabis stocks have been more reactive to the rise of COVID-19 than regular stocks. Since late January 2020, cannabis stocks have taken steeper losses than most but have also been quicker to respond to market upticks. Stocks have bounced back since March 19th and the pace of recovery of cannabis shares have been beating the rest of the market. The week dating 19 – 26th of March saw a 14% recovery towards January 1st values in the Alternative Harvest fund compared to the 9.7% enjoyed by the Vanguard Total Market fund.
Why the discrepancy between general and cannabis specific stocks?
There are two possible reasons that cannabis stocks have been more reactive than those on the Vanguard Total Stock Market Index:

Cannabis is a more volatile industry than most, with higher levels of active trading causing a larger downturn in response to COVID-19 but also a more powerful recovery in response to market upticks.




Investors predicted that cannabis firms would lose revenue e.g. due to restricted movement and general economic slowdown. They may now be reacting to the increase in cannabis sales as well as the current general uptick of the market.

Some revenue may yet be lost due to factors such as disrupted supply chains, shop closures, restricted movement and general economic slowdown. However, this may also prove an important time of innovation, planning and strategising for cannabis companies, the fruits of which will outlast the pandemic. For example, if delivery services prove cost-effective, we may see the normalisation of this, in the same way we have seen normalisation of restaurant deliveries in recent years with the rise of companies like UberEats and Deliveroo. For now, dispensaries must undertake their own delivery services and it may be those who can adapt to these delivery methods that will turn the most revenue during further lockdowns. This may suit many who live with restricted mobility even beyond the lockdowns. Conversely, those without access to delivery services such as those in remote areas may have more of a challenge in obtaining their products. Overall, innovative approaches to distribution and consumption may prompt long-lasting changes to how the industry operates for the better.


Mid-term Outlook
Recent reports from groups such as the International Monetary Fund (IMF) are indicating that a recession may be on the way. What this may mean for the cannabis industry is uncertain. There are good data-based reasons to be optimistic about the cannabis market in such a scenario. Research has shown that in times of economic downturn, cannabis consumption increases.

Both reduced employment and social distancing may contribute to this. Furthermore, this data corresponds to consumption trends before legalisation. Regions such as Quebec, Illinois and the Netherlands now recognise cannabis not as an illicit substance but as an essential product for medicine and recreation, which may further help maintain or increase consumer bases.

Prohibition Partners continues to monitor the impact of the COVID-19 crisis on the cannabis industry and will provide further updates on industry and consumer attitudes in the coming weeks.

For more in-depth information and support, contact the Prohibition Partners consultancy team at info@prohibitionpartners.com.

This report has been compiled for informational purposes only. It should not be construed as a research report for investment, legal, medical, health or tax advice. © 2020 PP Intelligence LTD.



Source:
https://prohibitionpartners.com/2020/03/27/insight-the-coronavirus-pandemic-and-cannabis-consumer-behaviour-ii/