PUBLISHED : 8 Apr 2020 - 13:17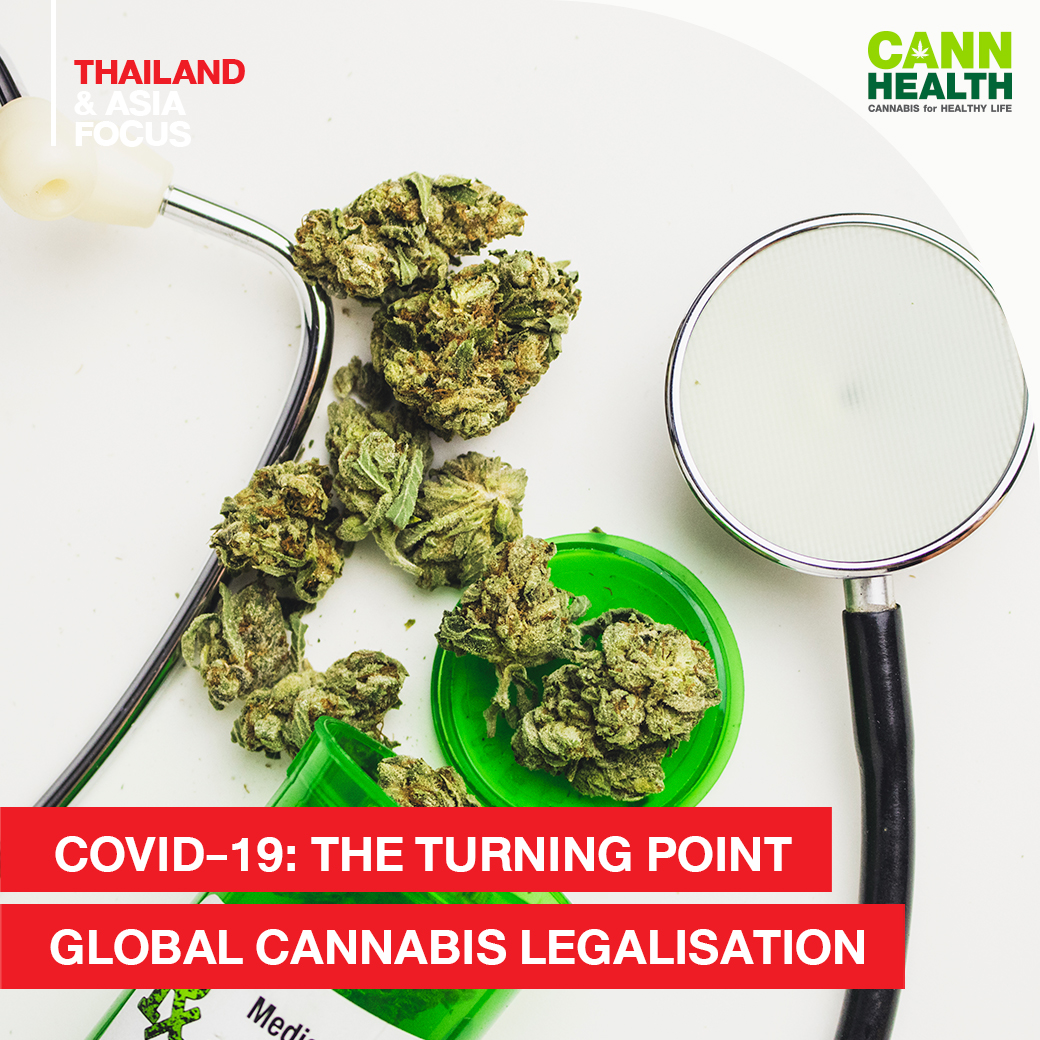 As of Friday, 3 April 2020, there are over one million confirmed cases of coronavirus worldwide. Analysts from the IMF and UN are predicting a global recession will follow in the wake of the pandemic, the longevity of which is unpredictable. As this develops, the potential of a legal cannabis industry to provide recession-proof jobs and taxes will become increasingly attractive to governments across the world.
Analysts from the IMF and the UN are predicting a global recession will follow in the wake of the pandemic, the longevity of which is unpredictable. As this develops, the potential of a legal cannabis industry to provide recession-proof jobs and taxes will become increasingly attractive to governments across the world.

Last week, Prohibition Partners reported on the impact of the current pandemic on cannabis consumer behaviour and how cannabis stocks are faring during the market downturn. This week, we take an in-depth look at why legalisation should progress in response to the current pandemic and resulting economic slowdown, which is set to worsen before it gets better.

The Financial Potential of Lifting Prohibition
COVID-19 has made for the worst quarter in stock-market history, and groups such as the IMF and the UN are now warning of the potential for a steep recession. This means a slowdown of economic activity and widespread job losses. The response of governments such as those in the US, Australia and the UK has been to release massive fiscal stimulus packages. The EU and China are likely to follow suit. Whether these fiscal packages achieve their aim or not, they will likely be offset in the future via increased taxation.

This presents a similar situation to alcohol prohibition in the US during the Great Depression of 1932. The strains placed on countries due to recession make it obvious that potential sources of work and taxation can no longer be ignored. Anti-Prohibitionists argued these points in the US and overturned the ban on beer and wine during the course of the depression. Today, the alcohol industry supports millions of jobs globally and brings in billions from tax revenue alone.

Cannabis presents a similar opportunity which could now be leveraged by governments globally. Markets that harness the economic power of the cannabis industry have demonstrated societal and infrastructural benefits. Colorado and Washington reported US$303 million and US$400 million, respectively, in cannabis-related sales taxes in 2019. Elsewhere, Prohibition Partners estimates a legal cannabis industry could be worth as much as £3 billion to the UK by 2024.

Beyond The Financial
For years now, economists, healthcare professionals as well as the public have shifted increasingly in favour of a legal cannabis industry. In 2010, Harvard economist Jeffrey Milton released a famous report outlining the huge financial incentive to legalise and tax cannabis. This report subsequently received support from over 300 economists including Nobel Laureates who called on the US government to consider the massive economic potential of cannabis legalisation.

Similarly, a majority of medical practitioners in the US have stated that they believe that cannabis has medical benefits and should be legalised for medical use. Public opinion also sides with economic and health experts in supporting legalisation of medicinal cannabis at least. In 2019, market research firm Ipsos surveyed opinions on cannabis legalisation in 27 countries and found that just four had a majority that opposed the legalisation of medicinal cannabis.
Source: Ipsos/Prohibition Partners
While the world was unable to harness the economic potential of legal cannabis markets during the last global downturn, the industry has progressed dramatically since then. Public opinion has shifted in favour of medical cannabis and support for adult-use is growing, clinical trials and healthcare research are advancing our understanding of the cannabis plant and blueprint markets such as Canada, Colorado and Washington are exemplifying the societal value of fully legal markets. Industry players and the logistical mechanics are all in place, and the consumer base is waiting and wanting. Complete legalisation would finally set in motion a fully operational industry with the potential to generate billions of taxable dollars.
A Ready Made Consumer Base
Legalisation represents an easy-win for any government looking to build an industry with high revenue potential. Cannabis is by no means a new product and there is no question about the demand globally. The lack of a legal regulated market which meets these demands is inherently risky for adult-use but also medicinal users. Last month, Prohibition Partners polled 15,098 adults aged 16+ in the mature markets of the US, Canada, Germany, the UK, Italy, Spain and France. Respondents were asked how they maintain good health or treat medical conditions. Including those that do not use cannabis at all, almost 8% of people across the seven countries reported self-medicating with cannabis. Below we show how the results translate into the number of people who may be self-medicating in each country.
Source: Prohibition Partners
Within these seven countries, an estimated 67.7 million people are self-medicating with cannabis, with the majority coming from the US – home to a large population and higher prevalence of cannabis use generally. Self-medication raises risks of several medical issues such as misdiagnoses, incorrect dosing and increased risk of dependence as well as the risks posed by obtaining medicine from street dealers. The solution to these risks is to control cannabis usage through legal means, ensuring medicinal and adult-use consumers of cannabis are not left to source their product from unregulated channels which operate outside of regular medical standards and taxation systems.

Current Supply Lines are Proving Vulnerable to COVID-19
COVID-19 is unveiling the inadequacies of current regulations in providing crucial medicines to hundreds of thousands of patients. In Spain, around 200,000 patients who had previously obtained medication from cannabis clubs, which exist in legal grey zones, are now left without medical cannabis supplies. In Germany, the Cannabis Industry Association has warned that pressure caused by COVID-19 is leading to supply bottlenecks, which are compounded by the complicated processes involved in patients obtaining prescriptions, pharmacies dispensing cannabis, and distributors supplying cannabis around the country.

These developments are showing us that the current system of medical cannabis supply in most regions is overcomplicated, inadequate and vulnerable to shocks such as the current pandemic and needs to be replaced by comprehensive medicinal access schemes to ensure patient demand is met.
More than half of 5,369 US adults responded that cannabis dispensaries should be classified as 'essential' services. Source: YouGov
COVID-19 deaths in jail and the backlash around cannabis criminalisation
Cannabis prohibition criminalises millions of ordinary people. For example, in the US, more than 609,000 people were arrested simply for possessing cannabis in 2018. In the EU, more than 840,000 offences for possession of cannabis were recorded in 2017. Underprivileged groups in society are often more likely to be harmed by these practices than others and there are now large drives for restorative justice by those communities erroneously punished under the war on drugs. COVID-19 also threatens to exacerbate the tragedy associated with criminalising cannabis possession since prisoners with underlying health conditions are in reality now facing a potential 'death sentence' as a result of the spread of COVID-19 in jails. The deaths of any prisoners who would likely face expungement of their sentence in years to come will serve as a timely reminder of the injustice of prohibition.

Beyond the human element of human injustice, economists, have long pointed out that more than $7.7 billion taxpayer dollars are wasted each year in the enforcement of outdated drug laws in the US alone. In the context of an economic slowdown and huge government spending in the wake of COVID-19, it will become increasingly attractive to reap the financial benefits of cannabis legalisation while also decreasing the burden on the justice system.
Source: Prohibition Partners, EMCDDA, FBI. Note: Not all countries are represented in the EU sample, and 'offences' are defined differently in different countries eg. arrests or legal charges.
Next steps…
As of early April 2020, COVID-19 is still causing unprecedented shutdowns around the globe and it is still too soon to assess when the pandemic will peak and when the after-effects will subside. It is clear that the financial impact of the outbreak will affect every government worldwide.

A legalised cannabis system could provide a much-needed stimulus during the potential downturn. Pioneering regions like Canada and some US states have charted much of the course towards a responsible system of cannabis control and the lessons learned about what works and doesn't work in licensing systems, compliance, standardisation and retail logistics, can be applied – and applied at speed.

What we have seen as a result of COVID-19 is the ability for governments, healthcare systems and global commerce to fundamentally change the way they operate, and to adapt quickly to an evolving situation.

Attitudes to cannabis have changed on the back of a growing understanding of the cannabis plant, empirical data from legal markets and, most importantly, the evolution of the way in which we choose to treat patients and consumers that use it.

Prohibition Partners continues to monitor the impact of the COVID-19 crisis on the cannabis industry and will provide further updates on industry and consumer attitudes in the coming weeks.

For more in-depth information and support, contact the Prohibition Partners consultancy team at info@prohibitionpartners.com.
Source:
https://prohibitionpartners.com/2020/04/03/covid-19-the-turning-point-for-global-cannabis-legalisation/